The SOS Toolkit
Does your senior community encourage residents to spend time outdoors?
The SOS Tool provides an easy, evidence-based way to evaluate your outdoor areas. Based on research of residents' preferences and actual usage, this tool can help you decide which features to install or improve.
The SOS Tool
(Click below for FREE DOWNLOAD)
This Excel spreadsheet will automatically convert your raw SOS Tool ratings to scores from 60-100 (poor to excellent). This makes it easy to compare different outdoor features and domains, as well as different facilities. Best of all, the template uses built-in "weightings" that reflect the relative importance of each item, based on research findings and resident preference surveys.
Additional FREE Resources
Special considerations are required for designing gardens for those with dementia.

These readings from leading experts in the field of dementia and designing outdoor space provide detailed guidelines for creating outdoor spaces
that support those with dementia.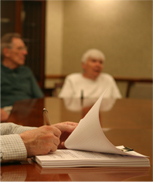 Access to Nature is based on current research about nature's effect on the lives of older adults – click here for a list of references on this topic.